CHARLIE - The Clever Bomber Jacket Pattern
Jalie needed a new jacket pattern. Something that would work for all our sizes. A bomber jacket was the obvious choice since we see them everywhere, from hip kids stores to classy women's wear collections.
S
ay hello to Charlie, our
bomber jacket pattern
designed for girls and women but that makes the cutest jacket
for boys too
!
Henri loves his Charlie jacket made of three different sweatshirt fleece!
Black front, charcoal grey back, heathered grey sleeves with striped ponte collar, cuffs and band.
To Line or Not to Line?
Lining makes drafting so easy. No need to worry about how the pockets look inside, no need to figure out how to get a clean finish where the zipper meets the collar. At the beginning we were leaning towards the lined jacket idea...
However, for a knit jacket, you need a knit lining, which can be difficult to find with the right stretch and recovery. A lining that stretches too much can be a nightmare.
Minus one for lining
.
Furthermore, there are many knits with a super soft back (like this
fleece from l'Oiseau
that simply cannot be covered with a lining!). When wearing the jacket over a tank or t-shirt you don't want to touch a cold lining... When putting on the jacket to get back from the gym, you would not want a silky lining sticking to your arms either.
So that was it:
no lining
!
More work for Jeanne, less fabric to buy for you. The drafting challenge was ON!
We wanted to avoid what I like to call "mitt pockets"... you know, when you unzip your jacket but cannot really put your hands in your pockets because they stick out like mittens? Taking the pocket in the seam allowance in the front or at the bottom made corners that were too thick... So Jeanne came up with a fun, "rainbow" pocket.
Charlie Jacket prototype in our smallest size - We used stretch twill / denim for front, back and pockets, fleece for the sleeves and ponts for the cuffs, collar and hem band.
The whole pocket is made with one piece of fabric (welt, facing and the pocket back itself)! No tiny piece to fiddle with, no "mitt pockets"! For best results, pick a fabric that you can press too, your welt will look better ;)
Main Fabric
Stable knit is super easy to work with and is quite easy to find in fabric stores. Look for scuba, double knit, sweater knit, beefy knits, sweatshirt fleece that do not have toooo much stretch (if you want a jacket with some structure of course).
If you use contrast fabric for the back, it will show a bit in the front because of the forward shoulder seam. It becomes a fun element that allows you to finish some fabric remnants that are too short for a front+back!
Make sure your sleeve fabric is comfortable, especially for kiddos. Mine prefer sweatshirt fleece to "cold knits" like polyester knits. This jacket is the perfect pattern to up-cycle an old pair of sweatpants (or buy sweatpants or a sweatshirt in plus sizes at a department store and you get super-soft fleece for your jacket sleeves AND matching ribbing!!!) I love the pleather look, but not all pleathers were created equal! Make sure it is nice and soft. You don't want cardboard sleeves!
For the front, have fun with a statement fabric!
For kids, we did make it a few times using stretch woven. It works for adults too, but might require alterations if you usually do full-bust adjustment.
Cuffs, hem band and collar
Ribbing is what works best (especially for the collar, ribbing "opens up" and stays closer to the neck).
If you cannot find ribbing in local fabric stores and don't want to buy it online, you can use a knit with some weight to it and good stretch across the grain like ponte or a medium weight jersey knit.
Zipper
In a perfect world, zippers would come in 1/4'' (6mm) increments. They don't. Since we cannot grade our jackets to have 2'' (5 cm) increments in length you will have to cut your zipper (or shorten your pattern a bit, or cheat and leave a space at the top or bottom).
If you want your zipper to start and end where it is supposed to, you will need zipper stops (and pliers to remove zipper teeth).
Zipper stops are super cheap so go ahead a buy a pack and you will be equipped to fix/shorten any zippers in your sewing career :) (this includes replacing broken zipper pull on jackets - I'm sharing this because it saved me so much time when Éléonore came home with a broken zip pull and I didn't want to replace the zipper on it!)
Metal zipper cannot be shortened as easily as plastic ones. If you like the look of metal and don't want to alter your pattern, look for plastic zippers in metallic color like the metaluxe zipper from YKK
Iron-On Patches
A low-cost solution to add fun and personality to a jacket. Save on the fabric (go with a versatile lower-cost solid knit you will have other uses for) and let your child pick his/her favorite iron-on patches! You can find cool iron-patches in some craft stores but it is online that you will have the best selection (at reasonable prices too!)
Tons of patches available on eBay!
Who is Charlie?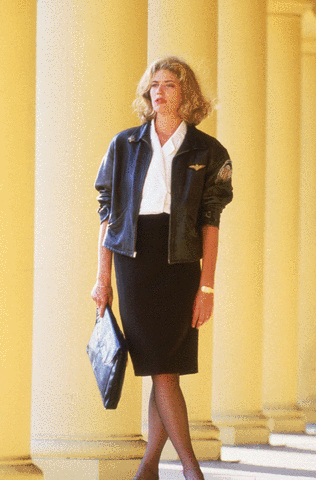 I've always loved the sky and anything that flies, especially big noisy planes. When Top Gun came out in 1986, I HAD to see it!
110 minutes of fighter jets, perms and aviator looks... dubbed in French. An instant classic! I was hooked and dreamed to be as cool as Charlie when I grew up. I wanted to be an astrophysicist and civilian Top Gun instructor, nothing less! Today I have the big curly hair and sported the side-part bob a few years during high school, but I didn't turn out to be a pilot or an astrophysicist :)
However, I have everything I need to pull off her jacket + pencil skirt look! Charlie is the perfect name for this jacket and on top of that it's a unisex name, suiting for this pattern that works for boys too!
(Hmmm... I wonder if I could use the footed PJ pattern and these perfect
iron-on patches
to make Frédéric a Maverick jumpsuit to match my Charlie outfit for Halloween...) :)
Ready to sew?
Grab your sewing pattern in paper or PDF format (the pattern is layered so you can print one size at a time and also include a copy shop version)
Take a look at our inspiration board to get some ideas for fabric shopping!
Save
Save